Tuuko
September 24, 2016 @ 7:30 pm

-

11:00 pm
Event Navigation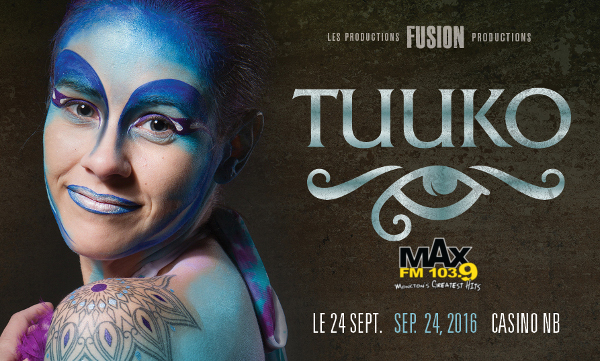 Welcome to TUUKO, the 6th creation of Les Productions FUSION Productions, set to take place on September 24, 2016 at Casino NB and presented by RBC Wealth Management, Dominion Securities.
TUUKO is a place billions of light years from earth, where the inhabitants live happily under the watchful Eye of Tuuko, guardian spirit of their planet. One day, Dark Invaders descend on the village and darken the sacred Eye. Join our heroine, Abrielle as she sets out on a quest to unite the four 'Speakers' in beautiful harmony to awaken the Eye and bring light back to Tuuko – along with its twin planet…The Earth!
Matt LeBlanc's 6th FUSION production, TUUKO brings art to life on stage — complete with dazzling lights, uplifting music, energetic dance and rousing live performances — all presented through an engaging story. This one-of-a-kind show features a breathtaking line-up of Matt's creations. See Matt himself create an original piece of art, live on stage. Let hand-painted costumes, artistic stage design, and many other creative inspirations draw you in. FUSION events have become more spectacular every year as Matt's vision expands. FUSION has grown from an audience of a few hundred into the thousands, now with shows in multiple cities.
When: Saturday, September 24, 2016
Where: Casino New Brunswick in Moncton (19 +). We are planning a family version of TUUKO in the near future so we ask that you respect the 19 + age limit because of the location (alcool & casino).
Tickets: On sale HERE starting Saturday August 6th at 9:00am Atlantic (details below).
Show Time: Cocktail reception starts at 7:30pm. Show starts promptly at 9:00pm.
After Party: The evening will continue on until the wee hours with a black light dance party!
Art Exhibition: Free art exhibition starting at 1:00pm. Come and see all the Matt LeBlanc artworks before the show. Visitors will get a special show day discount price on all the art displayed in the lobby.
Charity: Various auction items will be on display at the event and the money raised will go to the Mado's Gift Foundation, which helps local children in need.
Accommodation: Casino NB is offering a discounted rate for show attendees. Please be sure to call early to avoid disappointment, as the hotel is always sold out on Saturdays.