Guns N' Roses – North America 2023 Tour
Event Navigation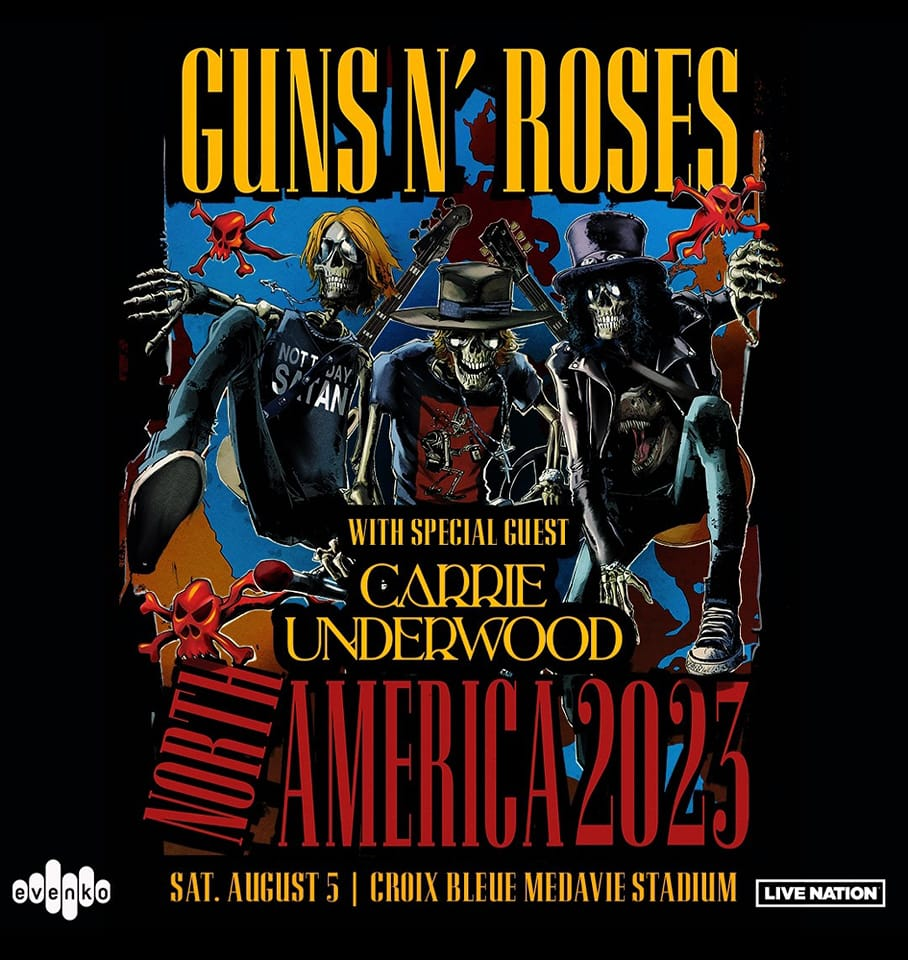 Guns N' Roses are back out on the road with a stop in Moncton Saturday, August 5 at Medavie Blue Cross Stadium during their North America 2023 Tour, with special guest Carrie Underwood!!
Tickets available now: Evenko
PRE-CONCERT FAN FEST: The Explore NB Street Team invites concert attendees to the official Pre-Concert Fan Fest from 2:30pm – 7pm. It's the perfect way to beat the traffic, get through security checks early, and enjoy the afternoon before rocking the night away! Enjoy local NB food sampling, busker-style entertainment, a live artist show, lawn games & a fan fest photo booth! Entrance to this area will be through Gate 4.
PARKING/TRANSPORTATION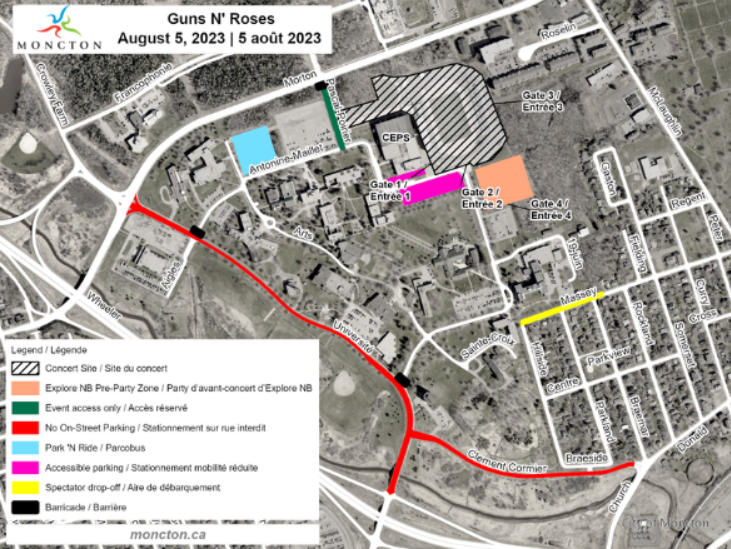 Park and Ride
Bracelets will be available for purchase on event day at the Park 'N Ride booths in the Moncton Coliseum parking lot (cash only) – $25/person (tax included).
Shuttles will depart from the Moncton Coliseum beginning at 1:30 p.m. Post-event shuttles will depart from the same drop-off location near the stadium and will continue to transport event-goers to the Moncton Coliseum until all customers have been served.
Carpooling to the Moncton Coliseum is encouraged!
Bracelets will be sold on a first-come, first-served basis.
Codiac Transpo
Visit https://app.codiactranspo.ca/ to plan the best route to the Croix Bleue Medavie Stadium.
Regular fee applies: $3/person/ride, exact change is required. Bus passes and payments through the HotSpot app are also accepted.
Spectator Access (Walk-up, bicycle, etc.):
Spectators who wish to bike or walk to the concert can access Croix Bleue Medavie Stadium by entering the campus via regular access points:
Gate 1: Antonine-Maillet Avenue (Southwest of the Croix Bleue Medavie Stadium, accessible entrance)
Gate 2: Antonine-Maillet Avenue (South of the Croix Bleue Medavie Stadium, general spectators)
Gate 3: McLaughlin Drive (East of the Croix Bleue Medavie Stadium, general spectators)
Gate 4: Explore NB Pre-Party Zone (Upper Field, South of the Croix Bleue Medavie Stadium, general spectators)
Bike racks are available adjacent to the stadium box office.
Spectator Drop-off
Those spectators wishing to be dropped off at the event (personal vehicle, taxi, etc.) can do so at Hillside Drive and Massey Avenue.
Accessible Access
Accessible drop-off areas at the Croix Bleue Medavie Stadium can be accessed via Pascal-Poirier Street, with the proper accessible identification. Accessible parking is also available on site for those with accessible tickets. The blue parking pass and accessible tickets must be shown to access the site.
Guests with accessible tickets sitting in the West Grandstand must access their seats by entering the CEPS Louis-J.-Robichaud through the main entrance. Guest sitting on the field level ADA platform can access their seats through Gate 1.
Ability Transit
Ability Transit will be available for event-goers to book and will bring guests directly on site. Visitors must book with them directly at 506-853-3055.
Important Traffic Information
Beginning at 9:30 a.m. on the day of the concert, the Université de Moncton will be restricting access to the campus to vehicular traffic. Parking on the Université de Moncton campus will be prohibited on Saturday, August 5, with the exception of those with accessible tickets and blue parking passes.
Information Guide / Frequently Asked Questions: Evenko