Gordon Lightfoot
August 20, 2016 @ 8:00 pm

-

10:00 pm
Event Navigation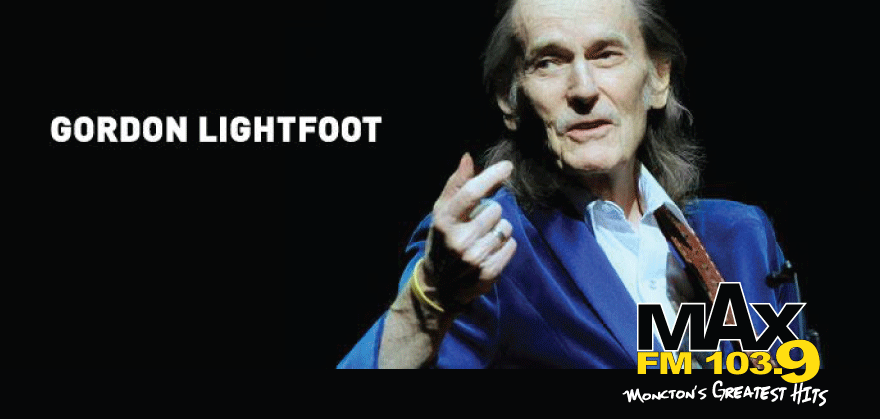 Where: Casino NB
When: 8pm, 2016-08-20
103.9 MAX FM is proud to welcome Gordon Lightfoot to the Molson Canadian Centre at Casino NB on Saturday, August 20th!
A national treasure, Gordon Lightfoot is beloved by music fans around the world. Born in 1938 in Orillia, Ontario, Lightfoot studied at Los Angeles' Westlake College of Music. He returned to Canada in the early 1960s and began performing at the "Riverboat" in Toronto and in coffee houses throughout Canada and the United States.
In 1966, his debut album Lightfoot! was released. Tracks such as For Lovin' Me, Early Mornin' Rain, Steel Rail Blues and Ribbon of Darkness brought him international recognition as a songwriter. As a result, cover versions of his songs were recorded by artists such as Bob Dylan, Elvis Presley, Barbara Streisand, Johnny Cash, and countless others. In 1971, Lightfoot earned his first Top Ten hit when If You Could Read My Mind became an international sensation. In 1974, his classic single, Sundown, went to No.1 on the American charts, followed two years later by The Wreck of the Edmund Fitzgerald, inspired by a Newsweek magazine article; it reached No. 2 on the U.S. Billboard charts. By the 1990s, he was mostly touring, giving just more than fifty concerts a year by 1998, mainly in North America, while he released two albums in the period. In 2004, he released his 20th album Harmony, and appeared as a featured guest on Canadian Idol.
Lightfoot's iconic Massey Hall residencies are celebrated with the release of his most recent album, Massey Hall Moments – All Live, a collection of live recordings of the finest Massey Hall performances, recorded between 1998 and 2001.
Lightfoot has won 15 Juno Awards and been nominated for five Grammy Awards. He was inducted into the Canadian Music Hall of Fame in 1986 and the Canadian Country Music Hall Of Fame in 2001. In May 2003, he was made a Companion of the Order of Canada and is also a member of the Order of Ontario. In 2004, Lightfoot was inducted into the Canadian Songwriters Hall of Fame and, in 2012, the U.S. Songwriters Hall of Fame.
Get your tickets at CasinoNB.ca or at the Casino Gift Shop!