Boma COVID-19 Virtual Summit
Event Navigation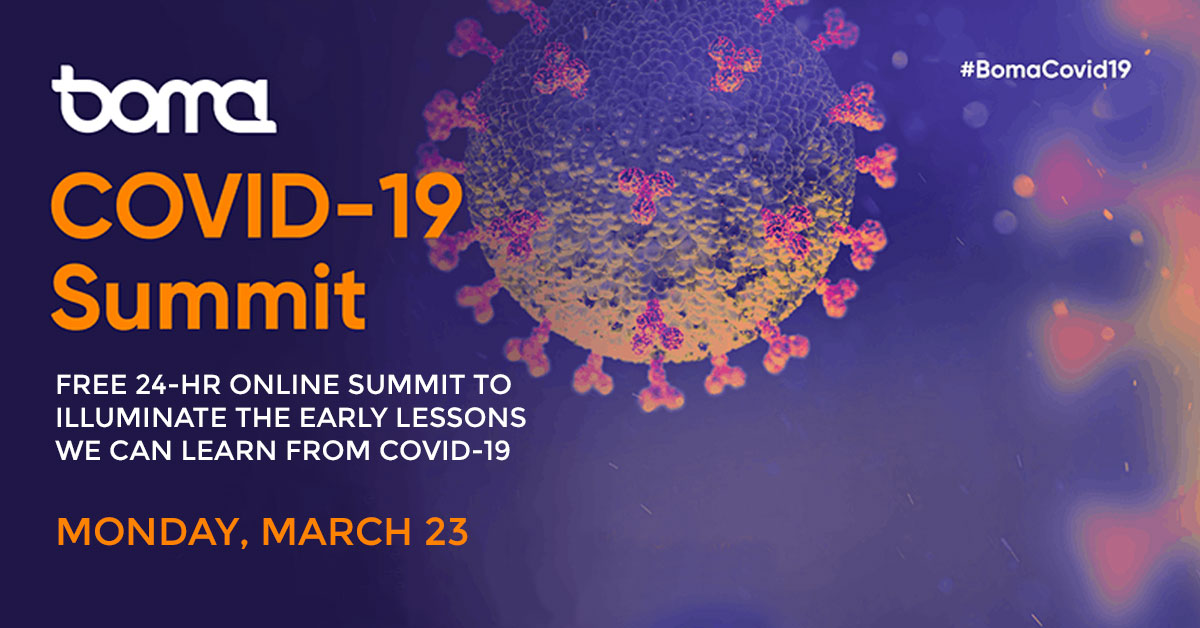 Boma's global network will host a 24-hr online summit in partnership with Zoom to illuminate the early lessons we can learn from COVID-19.
About this Event
Viruses do not respect borders. In order to contain COVID-19, we must come together as a global community. Boma is convening a worldwide conversation to identify the best ideas, innovations, and solutions to eradicate this pandemic locally — and globally.
Beginning on Monday, March 23, the Boma COVID-19 Summit will bring together 60 speakers in 20 countries from a wide range of disciplines, including health experts, policymakers and business leaders for more than 20 hours of debate and discussion related to the virus. The summit is in partnership with Zoom, and will take place 100% online.
Social action at a distance
This virtual summit itself is a model for a new kind of collaboration. It has been organized by 10 moderators around the world who have curated a program with experts who will participate from a home, office, school or hospital using technology provided by Zoom. They will interact with each other and with the worldwide audience participating through Facebook Live.
Together, we will discover the latest information, share successes, debate tough choices and imagine a future that is more resilient, more connected, kinder and healthier than ever before.
How to participate
Register here to get email updates on the program
Watch live on Facebook or the Boma website.
Contribute questions for the speakers and your own insights through Facebook.
Share clips, quotes and inspiration from summit participants around the world on Instagram, Twitter, or LinkedIn.
Act in your own community using the ideas and resources collected on the Boma website.
Schedule
All times are for Monday, March 23 unless noted. All sessions will be in English, except France (in French) and Brazil (in Portuguese). English translations of these sessions will be posted after the summit. Speakers and topics are subject to change.
Session 1: New Zealand — 2 a.m. EDT (7 p.m. in Christchurch)
The Virus and How to Fight It
A clear look at medical science
Understanding the virus that causes COVID-19 and how to prevent its spread: Dr Siouxsie Wiles; Microbiologist, Auckland, NZ
The path to develop a vaccine: Prof David Murdoch; dean, Otago University, Christchurch, NZ
Session 2: Japan — 4 a.m. EDT (5 p.m. in Tokyo)
Hacking a Pandemic
Activists and innovators around the world respond to the outbreak
Crisis lessons from Japan's 3/11 Fukushima disaster: Azby Brown, lead researcher, Safecast, a citizen science monitoring movement, Tokyo, Japan
How gaming technology can organize collaborative action: Daniel Goldman, game and simulation developer, Tokyo Japan
Designing the physical environment to stop the spread of infectious diseases: David Saladik, health facility architect working in Asia and Africa, Kigali Rwanda
Estonia comes together in country-wide COVID-19 hackathon: Sten-Kristian Saluveer, multimedia producer, Tallinn Estonia
Food systems in the context of COVID-19: Sara Roversi, Founder Future Food Network, Leader in Field of Food Sustainability
Resilience in organizations: Guy Philippe, management consultant, Paris France
Session 3: Germany — 5:15 a.m. EDT (10:15 a.m. in Berlin)
Hacking a Crisis
Collaborative action around the planet
Open source frontline medicine: Bart de Witte, founder digital health academy, Berlin, Germany
Quarantine anxiety – coping with the stress of isolation: Mazda Adli, chair, Fliedner Klinik Berlin Centre for Psychiatry, Psychotherapy and Psychosomatic Medicine, Berlin, Germany
Session 4: China — 4 a.m. EDT (6 p.m. in Beijing)
Resilience Amid the First Outbreak
People taking action together
Reducing stress: an online meditation: Jason Xu, mindfulness meditation coach, Beijing, China
Treating the mental side effects of the pandemic: Yilan, co-founder Neureality, a mental health media platform Beijing, China
Social action through celebrity fandom: Sherry Wang, recent college graduate, Beijing, China
Raising money is easy, spending money is hard: Chen Yiyu, 9th grade Student, YK Pao School, Shanghai, China
Mask stickers: fighting discrimination through humor: Moss X Team, Chinese students at Technische Universiteit, Delft, Netherlands
Engineering education at a distance: Anand Padmanabhan, CTO, Whittle Schools & Studio, Washington, DC, USA. Richard Kuder, lower and middle school head, Whittle Schools & Studio, Shenzhen, China
Studying in isolation: Ruiyang Ni, 11th grade student, YK Pao School, Shanghai, China
Session 5: Canada — 8 a.m. EDT (8 a.m. in Toronto)
Making Smart Decisions in Turbulent Times
Understanding the choices from many perspectives: three roundtable discussions
Separating fact from myth in a fast-moving pandemic
Debating the tradeoffs between autonomy and safety
Acting to cushion the global shock
Expert panelists:
Dr. Duncan Rozario, medical director of the Oakville Virtual Care Program, Oakville, Canada
Steve Joordens, professor of psychology, University of Toronto, Toronto, Canada
Julia Hanigsberg, CEO of Holland Bloorview Hospital, Toronto, Canada
Amanda Munday, founder of The Workaround, a parent-friendly co-working space, Toronto, Canada
Zabeen Hirji, former head of human resources, Royal Bank of Canada, Toronto, Canada
Karen Pastakia, lead human capital practice, Deloitte, Toronto, Canada
Ryan Merkley, chief of staff of Wikimedia, Toronto, Canada
Peter Faist, CEO of Staffy, a restaurant hiring app, Toronto, Canada
James Partridge, director of credit analytics, Moody's Analytics, Toronto, Canada
Harry Moseley, CIO of Zoom Video Communications, New York, USA
Janelle Hinds, founder, Helping Hands, an app to connect students with volunteer organizations, Toronto, Canada
Jon Shell, managing director, Social Capital Partners, Toronto, Canada
Kevin Johnson, CEO, MediaCom Canada, Toronto, Canada
Session 6: India — 10 a.m. EDT (7:30 p.m. in New Delhi)
A Different Future
A time to think beyond the unexpected
The psychology of uncertainty: Dr. Rashna E David, psychologist and education consultant, Ajmer, Rajasthan, India
Leveraging exponential technologies for minimizing medical disasters: Prashant Mehta, global chief delivery officer, Dentsu Aegis Network, Gurugram, Haryana, India
Mining cyberspace in times of crisis: Akhilesh Tuteja, global co-leader cybersecurity, KPMG, Delhi NCR, India
Shock and awe for the travel industry: Anil Parashar, CEO at InterGlobe Technology Quotient, Gurugram, Haryana, India
Session 7: Poland — 12 p.m. EDT (5 p.m. in Warsaw)
Reinventing Our World
How to strengthen our products, schools, hospitals and society
Making distance learning work: Atish Gonsalves – global innovation director, Humanitarian Leadership Academy, London, UK
Designing products for the post COVID-19 world: Aga Szóstek – experience designer, Warsaw, Poland
How will we travel when the borders reopen?: Dan Noll & Audrey Scott – travel bloggers and sustainable travel strategists, Berlin, Germany
How COVID-19 will challenge democracy: Robert Mołdach – CEO, Institute of Health and Democracy, Warsaw, Poland
Finance in the epicenter of the epidemic: Luca Mannucci – managing partner, Sella Venture Partners, Milan, Italy
Public health systems as a reflection of our economic priorities: Agnieszka Gaczkowska – medical director, Sundose, Warsaw, Poland
What's after what's next: Kacper Nosarzewski – managing partner, 4CF, Warsaw, Poland
Session 8: France — 2 p.m. EDT (7 p.m. in Paris) — *Session will be in French
Curing Society
Confronting the social, political and economic maladies exacerbated by the pandemic
What lessons can we learn for our health system?: Frédéric Bizard, founder, the Health Institute, Paris, France
Can we govern globally?: David Djaïz, author of "Slow Democracy" (2019), Paris, France
Debating Stigma: Responding to "The Chinese Virus": Julie Hamaïde, founder Koi Magazine, Paris, France & Linh-Lan Dao, journalist on "True or Fake" program on Franceinfo, Paris, France
Comparing crisis management in Asia, Europe and the United States: Simeng Wang, permanent research fellow at The French National Center for Scientific Research (CNRS), Paris, France
How to handle the economic crisis after the health crisis?: Agnès Pannier-Runacher, state secretary for economy and finance, French Ministry for the Economy and Finance, Paris, France
Arnaud Fontanet – Professor at the Pasteur Institute and the Conservatoire National des Arts et Métiers. Former intern at the Paris hospitals, doctor of medicine (University of Paris V) and of public health (Harvard University), he is specialized in the epidemiology of infectious and tropical diseases.
Session 9: Portugal — 4 p.m. EDT (8 p.m. in Lisbon)
Empowering People with Technology
How to make your own change
Monitoring epidemics through crowdsourcing and mobile devices: Onicio Leal Neto, CEO, Epitrack, Zurich, Switzerland
Biohacking to fortify yourself against pathogens: Teemu Arina, chairman, Biohacker Center, Helsinki, Finland
360º Health overview in the context of pandemics (in Brazilian Portuguese*): Vera Cordeiro, founder, Associação Saúde Criança, Rio de Janeiro, Brazil
Session 10: Brazil — 6 p.m. EDT (7 p.m. in São Paulo) *Session will be in Portuguese
Early Warning and Quick Action
How to respond to the coronavirus today while building tools to monitor its spread
How to identify a viral infection – advances in diagnosis: Dr. Celso Granato, head of Virology at Grupo Fleury, São Paulo, Brazil
World Health Organization's response to COVID-19: Jamil Chade, journalist, Geneva, Switzerland
Managing the economic impact of the Pandemic: Joaquim Levy, former Minister of Finance of Brazil, Oxford, UK
Genetic analysis of the COVID-19 virus: Jaqueline Goes de Jesus, researcher University of São Paulo Medical School, São Paulo, Brazil
Session 11: United States — 8 p.m. EDT (5 p.m. in Palo Alto)
Extreme Innovation for an Extreme Crisis
Accelerating discoveries to prevent, diagnose and treat the COVID-19 virus
Coronavirus 101: Divya Chander M.D., chair neuroscience, Singularity University, Palo Alto, CA, United States
Innovation in the time of COVID-19 – the state of play: Daniel Kraft M.D., Palo Alto, USA
Prospects for a COVID-19 Vaccine: Margaret Liu M.D., past president, International Society for Vaccines, San Francisco, USA
What past medical victories tells us about the path forward: Larry Brilliant M.D., chairman, Ending Pandemics, San Francisco, USA