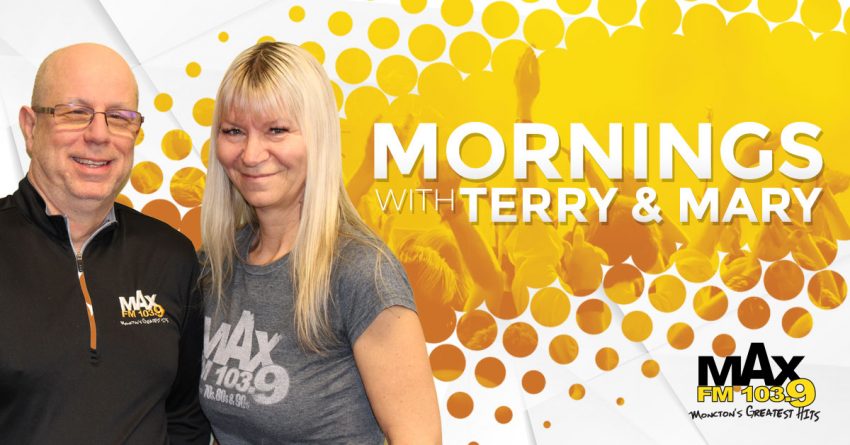 Max Mornings
Spend your mornings with morning Max'ers: Mary and Terry for the latest weather, traffic, and news… but most importantly Moncton's greatest hits!
Q & A with Mary
Celebrity Crush?
Colin James
One superpower you would want?
Ability to turn hate into love
What's your biggest fear?
Being trapped in an elevator, I am a serious claustrophobic!
What's one place you want to visit?
Amsterdam… for the great art 😉
Tell me something weird about you.
I attach a colour to every day of the week
Who is the most famous person you've ever met?
Roseanne Barr
What's the one thing people would be surprised to know about you?
I was a trampoline champ and competed nationally in the 70's
Where is the most interesting place you've been?
Australia
What movie title best describes your life?
Pursuit of Happiness
What gets you fired up?
Politics, so I avoid it as much as I can
Q & A with Terry
You get to invite 3 people dead or alive to dinner. Who do you invite?
Dick Clark, Dolly Parton, and Weird Al
Describe yourself in 3 words?
Silly, Serious, Honest
Celebrity Crush?
Stevie Nicks
Something you've done that you never thought you'd do?
Broadcast 3-hours of pre-concert traffic updates for the Bryan Adams 'Waking Up the Neighbours' Show from top of the former Shediac/Parlee Beach Bungie Tower. The thing kept swaying in the breeze. (Fear of heights)
What's your biggest fear?
Justin Bieber becomes Prime Minister
One thing on your 'bucket' list:
An extended vacation through Louisiana/Tennessee; like a month or two.
Who is the most famous person you've ever met?
Bobby Hull
What's the worst fashion choice you ever made?
Bright gold disco pants, V-neck t-shirt, silk white bomber style jacket, and high-heeled boots.
What's the luckiest thing that has happened to you?
Saw Bruce Springsteen concert in my hometown.