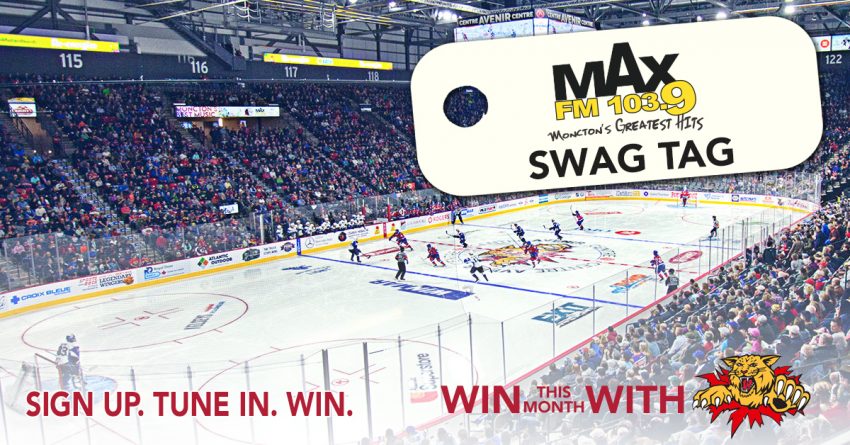 Swag Tag Winning with Moncton Wildcats
Score some tickets to the Moncton Wildcats this month with Swag Tag winning!
All month long be listening weekdays between 8am-9am and again between 3pm and 4pm. if your our winner¹, you'll receive a pair of flex passes good for any Wildcats regular season game!
But that's not all…
You'll also go in to our month end draw which if you are the lucky swag tag name that we pick, you will  win a VIP Playoff Experience for you and 3 friends!
During MAX Mornings, have your dialing fingers ready and be the correct caller through at 858-1040 and in the afternoons, Nathan will give you your cue to head to our Facebook² page for your second chance of the day!
The grand prize draw will take place on November 29th! 
Take a shot at Swag Tag winning this month, proudly presented by the Moncton Wildcats and 103-9 MAX-FM.
*******
1. One win, per person is allowed for this contest. Each winner will be recorded and entered in for the grand prize draw at the end of the month. All winners are subject to the MBS Radio General Contest Rules & Regulations
2. Facebook contest entries will be selected at random and a daily winner notified via Facebook. Contest plays on Facebook must be made by the individual registered to the swag tag and not made be another person on behalf of that swag tag holder. A Facebook contest win qualifies as one win as defined above.