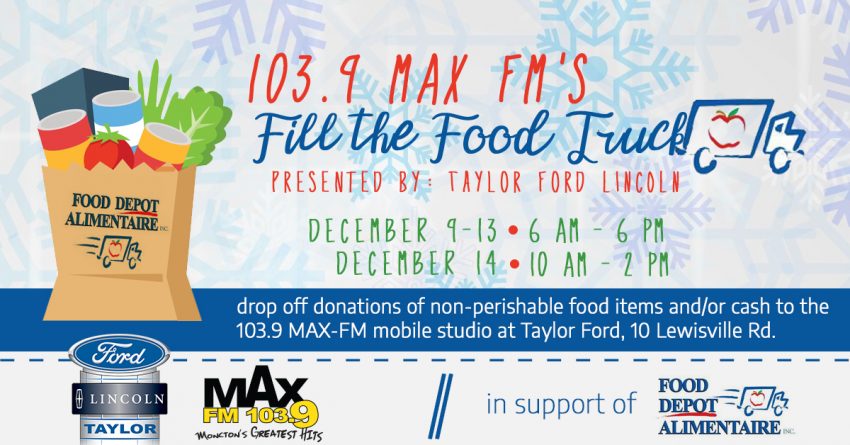 Fill The Food Truck in support of Food Depot Alimentaire
You're invited to join us for the first annual 1039 MAX FM Fill the Food Truck campaign, presented by Taylor Ford Lincoln.
Beginning December 9th, you can drop by the 1039 MAX FM mobile studio at Taylor Ford Lincoln, 10 Lewisville Rd., to make a donation of food and/or cash donations. Cash donations collected will go to help support the Food Depot's Christmas Box program. On Saturday, December 14th we will have a special live broadcast from 10am – 2pm and we will announce the total raised for the Food Depot in both weight and monetary donations!
when you drop by to make a donation, you can grab a coffee and the new McCafé Lil' Donuts from McDonald's – thanks to our friends at the Dieppe Blvd, Paul St. Dieppe, and Morton Ave. Moncton locations.
Plus, as a sign of our gratitude for any donation you can make throughout the week, you can fill out a ballot for a chance to win one of the following prizes:
A $250 travel voucher from our friends at tripcentral.ca -OR-
A 1-night stay at the Crowne plaza and two (2) tickets to Michael Bublé -OR-
A $200 gift card to Vogue Optical

How do I donate?
Drop off your food and cash donations to the 103.9 MAX FM mobile studio between December 9 – 14. Someone from the 103.9 MAX FM team will be on-site from 6am to 6pm Monday to Friday, and 10am – 2pm on Saturday. You can also make your donation outside of these hours, Monday and Thursday from 6pm – 8pm inside the Taylor Ford Lincoln showroom!
What is required?
Anything you can give. From food to cash all will be a great help and support for the Food Depot as they support food banks across Southeastern New Brunswick, and through the Christmas Box program, several hundred families in our communities.
I'm a business and I want to get involved?
We have opportunities for businesses to join us during the Fill the Food Truck campaign. Please reach out to Promotions Manager, Anthony Enman, at anthony.enman@mbsradio.com to discuss.