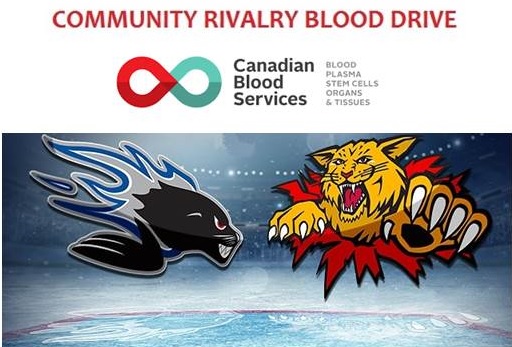 WILDCATS & SEA DOGS TEAM UP FOR JANUARY BLOOD DRIVE
MONCTON N.B.  – The Moncton Wildcats and the Saint John Sea Dogs, in association with Argus Audiology are teaming up to host our fifth annual "Community Rivalry" blood drive during the month of January!
Each team's goal is to reach our highest potential of donors; in Moncton that number is 851 and in Saint John it is 448 donors between January 1st and January 31st , 2019. Both CBS locations will feature a thermometer which will track the number of donations throughout the month.
Fans visiting the Canadian Blood Services location in Moncton, will be entered to win tickets and other prizing courtesy of Argus Audiology!
To be a part of this wonderful community initiative and to save a life today, please call the Moncton Clinic, 500 Mapleton Rd. at 1(888)236-6283 to book your appointment. Blood donors must be at least 17 years old and can give every 56 days (84 days for females). The Moncton Wildcats thank you in advance for your participation!