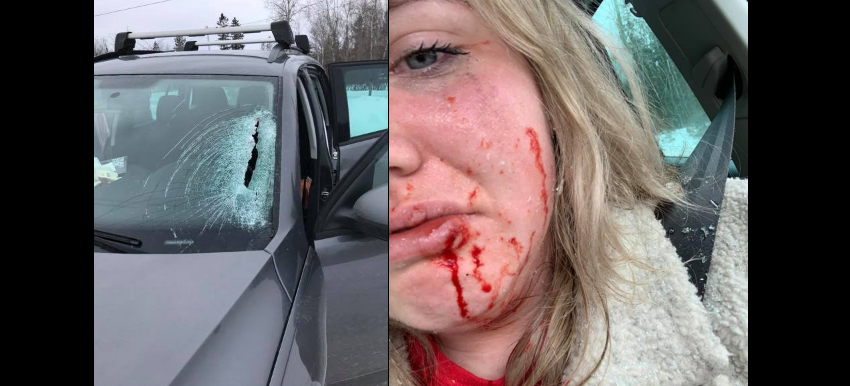 PLEASE Clean the snow and ice off your vehicle!!!
This needs to stop.
Weeks after we posted about ice smashing a windshield of a Lower Coverdale resident's SUV, this past weekend a Greater Moncton woman experienced a chunk of ice smashing through her windshield & striking her in the face.
All because of uncleared snow & ice from a pickup truck & trailer.
The incident happened this past Sunday afternoon — Brittny Goddard of Moncton was traveling along Salisbury Road, when an oncoming half-ton truck toting a trailer drove by.
A large chunk of ice broke off from the truck as it was passing Brittny, smashing through the side of her windshield & striking her in the face.
"It was quite close to the centre of the road and seemed to be travelling quite fast. When it went by me a big chunk of ice flew off it and smashed thru my windshield, hitting my face. I pulled to the side of the road and I could see that the truck was hauling a black enclosed trailer but they didn't stop."
This incident, and many more like it, could have easily been avoided by the other driver using care & consideration in clearing off their vehicle.
It also could have ended much worse.
Brittny's message to other drivers is to "PLEASE take the time to clean your cars off this winter."
Photo Source: Brittny Goddard/Facebook