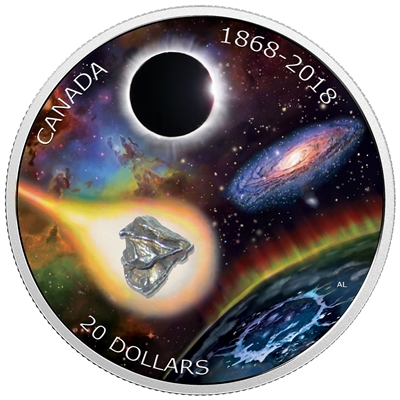 New Canadian Coin Is Out Of This World
In celebration of the Royal Astronomical Society of Canada's 150th anniversary, 5,500 coins will be minted, each with a unique piece of iron meteorite. Own an extraterrestrial piece of our solar system—one that is potentially as old as Earth itself!
Special features:
YOUR VERY OWN METEORITE—NO TWO PIECES ARE ALIKE! A real piece of meteorite makes a big impact on your coin—since no two pieces are alike, no two coins are alike making your coin unique!
CELEBRATING CANADA'S SCIENTIFIC SPIRIT! A special 150th anniversary celebration of The Royal Astronomical Society of Canada! Through the contributions of its 5,000 members, Canada's leading association of amateur and professional astronomers remains dedicated to the advancement of astronomy and related sciences.
SOURCED FROM THE CAMPO DEL CIELO METEORITE FIELD! Your coin includes a GUARANTEED authentic meteorite fragment! Your meteorite fragment likely made impact some 4,500 years ago, but it was originally part of an iron mass that is likely billions of years old.
INCLUDES SERIALIZED CERTIFICATE: The Royal Canadian Mint certifies all of its collector coins.
1 OZ. PURE SILVER: Your coin is crafted from 99.99% pure silver!
LOW WORLDWIDE MINTAGE: Only 5,500 coins will be made available worldwide.
GST/HST EXEMPT: Your coin is GST/HST exempt.