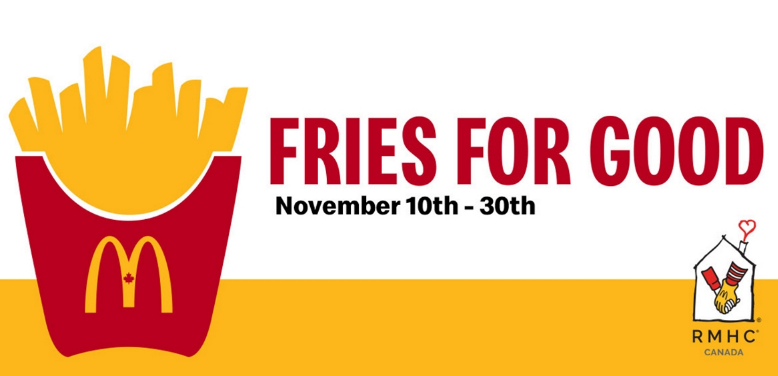 McDonald's launches 'Fries For Good' campaign, fundraising for McDonald's House Charities #friesforgood
We're always down for a good excuse to get take-out — it's quick, convenient, easy to clean up, AND starting today until the end of the month: McDonald's has the perfect excuse to pick up their World Famous Fries! They've got a great fundraiser called Fries For Good, to help support Ronald McDonald House Charities!
From November 10th – 30th, a portion of the proceeds from every order of fries sold will be donated to Ronald McDonald House Charities Canada. All fries, whether bought alone, or in a meal will help!
Operational costs for House Charities has gone up as a result of COVID — And that goes for many charities across Canada. It's estimated costs have increased 30% to 50%. So, Canada-wide, a portion of proceeds from every order of fries size purchased at McDonald's restaurants in our area will go toward the Ronald McDonald family rooms in our province. They're also allowing you to round up your order to the nearest dollar with the additional change going toward house charity families.
Your order will benefit the Ronald McDonald Family Room in the Moncton Hospital!
You can support at the drive-thru, in-restaurant, even through mobile order and paying online through the McDonald's app, as well through McDelivery!
More Info: McDonald's/Fries For Good
Photo Source: McDonald's Canada