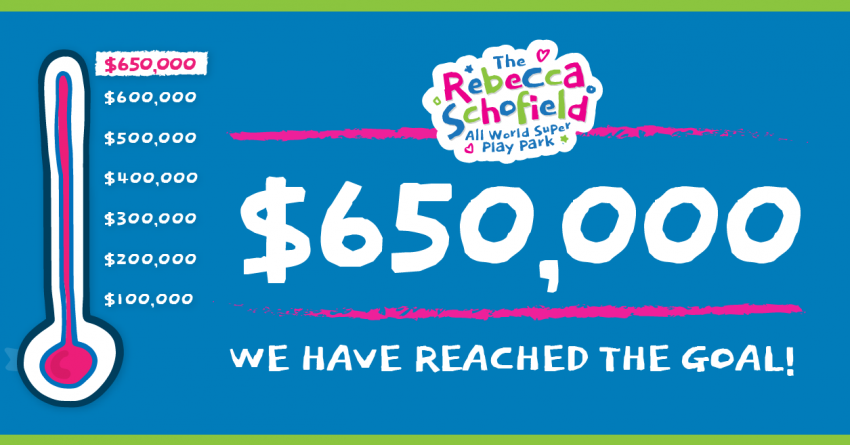 Goal Reached!!! Thank You to Everyone Who Donated.
Rebecca Schofield All World Super Play Park reaches fundraising goal of $650,000!
Fantastic news came from the Rebecca Schofield All World Super Play Park committee — the playground project has reached its goal of $650,000!!
"We are so thrilled to announce that we hit our $650,000 fundraising goal! We are so thankful to all of the many volunteers and donors that helped us get here!"
The team announced Wednesday afternoon that their goal was officially met Tuesday night, following donations during the Party For The Park event at the Delta Beausejour, as well a massive $50,000 grant from the New Brunswick Government's Family & Youth Capital Assistance Program & another $50,000 donation commitment from Rotary Moncton West & Riverview.
You can still donate toward the play park! You can do so by visiting RebeccaSchofieldPark.com!
With construction set to kick off June 4th until the 10th, there is a call for volunteers to help build the park — It's not just skilled labourers that they're in need of.
Project Manager Sean Rollo says "…We're looking for volunteers of all skill levels. Even if you've never touched a power tool before, there's a job for you on the site & we need you. The park itself is not going to get built without the volunteers of our community, so please come on out & volunteer.
The Rebecca Schofield All World Super Play Park is more than just an elementary school playground — A huge component of the new design is inclusivity and accessibility. We consulted many professional associations to seek their guidance and expertise, including a number of societies that deal primarily with accessibility issues.
The new design includes a wheelchair-accessible outdoor classroom, wheelchair-accessible safety surfaces/ramps/roundabouts, as well ability swings, sensory play, sign language & braille embedded into the park, and so much more.
You can register as a volunteer during park construction at RebeccaSchofieldPark.com/volunteer!