Don't eat the yellow snow, white's ok though.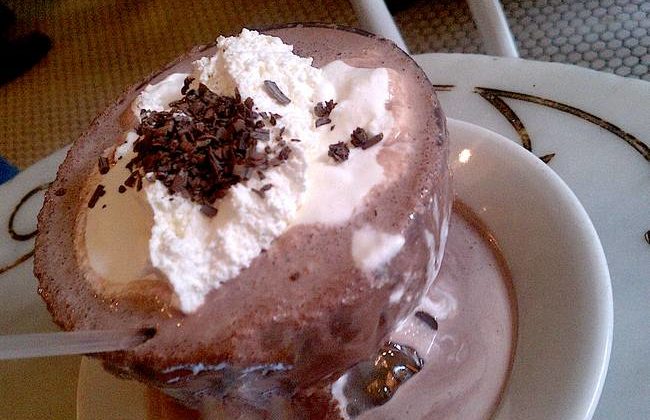 Is it safe to eat snow? According to Anne Nolin, a professor at the College of Earth, Ocean, and Atmospheric Sciences at Oregon State University, it's perfectly safe to eat snow as long as it's fresh and white. We should all eat it,  she says "everyone should eat snow because it's really fun. 
Well we are certainly in abundance of fresh fallen snow so let's make something yummy!!
Hot cocoa snow slushie
Pictured: Jennifer 8. Lee/Flickr/CC BY 2.0
3 ounces of your favorite chocolate
2 teaspoons cocoa powder
1 1/2 tablespoons sugar
1 1/2 cups milk
3 cups snow
Whipped cream
Chop the chocolate into little pieces and melt in a double boiler over simmering water. Add cocoa and sugar, stir constantly until blended. Remove from heat and stir in 1/2 cup milk until smooth, and cool to room temperature. Once cool, add the remaining milk and stir the mix into snow until slushie-like. Top with whipped cream. Indulge.
Peppermint snow ice cream
While mixing cream and sugar as in the video on top is one way to go, if you're snowbound with a can of sweetened condensed milk in the pantry, you're in luck. And if you happen to have some stray peppermint extract, even luckier. Would it be too much to ask to discover some broken candy canes somewhere for a touch of garnish?
8 cups snow
1 14-ounce can sweetened condensed milk
1 teaspoon peppermint extract
If you want, place the can of milk outside and allow it to chill. Put the snow in a large bowl, stir in chilled milk and peppermint, lightly mix until combined. Yum.
Spicy honey candy with sea salt
1 cup honey
1 teaspoon vanilla
Cayenne pepper and sea salt to taste
Such a simple treat! Mix honey with vanilla and cayenne to desired level of heat. Pour gobs of honey in clean snow and roll them around with a spoon until formed into balls, remove from snow and sprinkle with sea salt.
Spiked Ginger-orange sno cones
Spiked sno cones are as easy as taking your favorite cocktail recipe and pouring it over snow. Voila! If you need inspiration, try this recipe for Organic Ginger-Orange Cocktail Made with Bourbon and Sake that uses fresh ginger, bourbon, sake, orange juice and simple syrup. Instead of adding ice, drizzle the concoction over scoops of tightly packed snow.
Recipes from http://www.treehugger.com/easy-vegetarian-recipes/7-recipes-snow.html