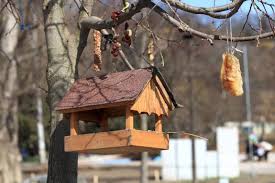 Bird Feeders Should Not Be Hung Until 1st Frost of Fall, Here's Why….
A parasitic disease called Trichomonosis continues to rear its head. Trichomonosis is linked to significant declines in the populations of greenfinches and chaffinches since 2005 in the United Kingdom. It was first documented in Atlantic Canada in 2007 and has been found regularly in local purple finch and American goldfinch populations since that time.
Backyard bird feeding and watering are considered likely contributors to the spread of the disease, as the birds congregate in close quarters and in large numbers.
One of the things the public can do to help songbirds is to take down their feeders during the warmer months.
Check out this video taken in Nova Scotia, the bird is exhibiting the classic signs of Trichomonosis including difficulty swallowing, matted wet feathers and food particles around the face and the beak, and ruffled feathers.
If you see birds displaying this behavior contact
Canadian Wildlife Health Cooperative
Prince Edward Island, New Brunswick, Newfoundland and Labrador, Nova Scotia: 902.628.4314
Source: www.thestar.com