30 DAYS OF LUNCHBOX RECIPES: NO REPEATS!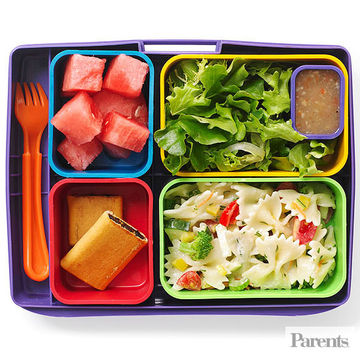 1. Fairly light on veggies: I know the more veggies that get packed in that bag, the less that gets eaten and I hate throwing away food. We work on our veggie tasting skills together at dinnertime and I push the fruit for lunch instead. The few veggies I do mention are on the Peanut's approved list.
2. Quick & easy packing: If you have the time and energy to be crafting animals and characters out of produce at 6 a.m. before your coffee more power to you. I don't. These lunch combos take minutes to toss in the bag. That said, I find a simple cookie cutter and a handwritten note on a napkin works wonders!
3. No sandwiches!: Well, "almost" no. My girls get crazy tired of sandwiches and several times last year the Peanut would come home with a lunch bag full of bread. She'd eat the filling and leave the rest! I have several methods of getting that filling presented besides putting it in between 2 slices of bread.
4. Nut free!!: Probably the most important factor here. The Peanut's school is peanut-free, so no peanut butter or nuts appear in these suggestions.
Materials you need, links to sources included:
Cute and easy lunch bag:
Plastic bento-style containers:
Ice pack
Small cookie cutters:
Toothpicks or skewers
Methods: I have 4 presentation methods I rotate depending on the ingredients and food.
1. Roll-ups: The Peanut's favorite. Take the meat and/or cheese, lay it flat. Roll it up like a burrito. Slice it into chunks, hold in place with toothpicks.
2. Stackers: I call this the "make your own lunchables" method. Meat, cheese, crackers, and assorted toppings are presented for the kids to mix and match their own bites.
3. Nibble Plates: Also known as "What on earth do I have in the fridge?!" day! Random bits and pieces that have some seemingly cohesive theme are presented in their own containers to nibble on. Bits of leftover chicken, fruits, veggies, etc.
4. Cut-outs: There are a precious few sandwiches on this list. When they hit rotation, I use a larger cookie cutter to remove the crusts. My favorite is a scalloped heart shape that uses almost every ounce of food with little wasted edges.
30 Days of No Repeats!
1. Deli turkey + cheddar slices in roll-ups, pretzels, apple wedges
2. Turkey pepperoni + swiss cheese + butter crackers in stacks, red grapes, carrots
3. Deli ham + grilled corn guacamole + American cheese, rolled up in a tortilla and sliced into pinwheels, strawberries, carrots
4. Whole wheat pita wedges + cream cheese spread + raisins + ham roll-ups
5. Graham crackers + cookie butter sandwiches, strawberries, yogurt
6. Tortillas + cream cheese spiced with taco seasoning + rotisserie chicken rolled up and cut into pinwheels, cherry tomatoes
7. Pasta tossed with olive oil or salad dressing + pea pods + rotisserie chicken + grapes

8. Deli roast beef + cheddar in roll-ups, carrots, apple wedges
9. Jelly sandwich cut-out, cheese stick, banana
10. Nut-free homemade granola (that recipe has nuts but you can easily leave them out), yogurt, strawberries, Nilla wafers
11. Shredded cheese + rotisserie chicken microwaved into a tortilla quesadilla, salsa + tortilla chips
12. Deli ham + havarti + pear + rye toasts served as nibble plate
13. Bacon + tomato + shredded lettuce + cream cheese rolled into a tortilla pinwheel, berries
14. Asian marinated chicken bits leftover from dinner + pea pods + pasta noodles + grapes served as nibble platter
15. Breadsticks + marinara dip + mozzarella cheese stick cut into cubes + pepperoni slices served as a nibble platter
16. "Deconstructed chicken pot pie": Rotisserie chicken + peas + carrots + butter crackers served as nibble platter, applesauce
17. Noodles tossed with pesto, parmesan cheese chunks, tomatoes
18. "The Toddler": Goldfish crackers, raisins, cheese stick, apple cut into chunks
19. Honey soy chicken leftover from dinner, plain noodles (avoid the peanut butter that comes with the original recipe), carrots
20. Deli ham + cantaloupe + mozzarella cheese + tomatoes served as a nibble platter
21. Biscuit, split in half + pulled pork leftover from dinner + shredded cheddar cheese for a mini sandwich, watermelon chunks
22. English muffin + marinara sauce + shredded mozzarella for homemade pizza bites, grapes
23. Pumpkin bread + whipped cream cheese spread + raisins + plain ham rollups
24. Chicken pieces leftover from dinner + pita wedges + cherry tomatoes + tzatziki sauce served as dipping platter
25. Pancakes cut into strips + yogurt + berries + bacon served as dipping platter
26. Shrimp + cocktail sauce + pineapple chunks + bagel chips served as nibble plate
27. Banana zucchini bread + yogurt + raisins
28. Hawaiian bun + ham + american cheese for miniature sandwiches, apple slices, carrots
29. THINLY sliced cucumbers + cream cheese + white bread + sprinkle of dill for uncrusted cocktail sandwiches, grapes,
30. Leftover salmon chunks from dinner + blueberries + tomatoes + pita bread wedges served as nibble platter