128 Canadian Flags Represent 128,000 Canadians Killed and Missing in Action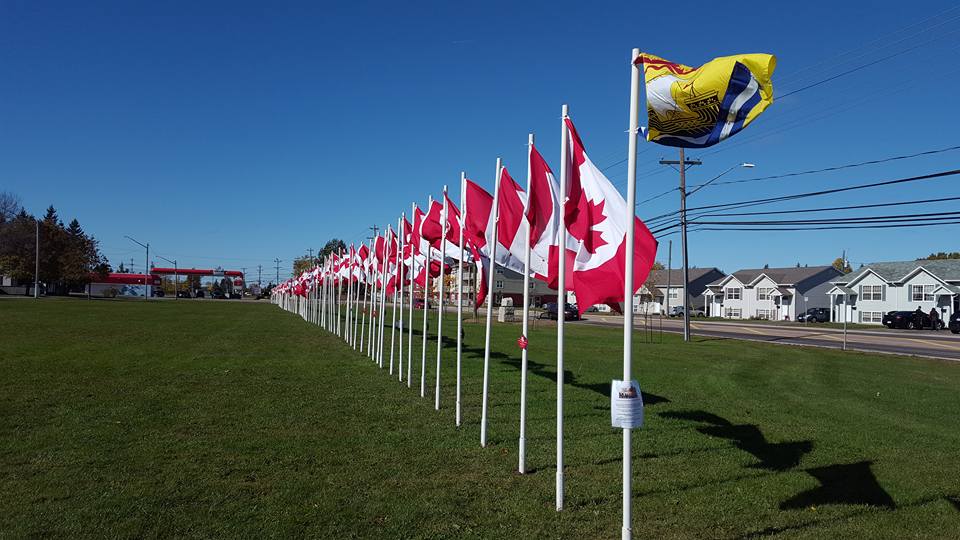 Every year, Canadian flags are erected along major roadways in participating communities, representing the 116,000 Canadian soldiers lost in armed conflict from the Boer War to the present, as well as the 12,000 soldiers Missing in Action. Right now the 128 flags fly proudly and with honour at 506 Hillsborough Rd in Riverview. Stop by and see them if you can. It is a very touching sight to see.
Flags of Remembrance is the brainchild of VVOC Founding Executive Director, Allan Cameron. This initiative is designed to pay tribute to the men and women of our Armed Forces and Veterans in a visually stunning display of patriotism. Every year at our opening ceremony, 128 full size, official Canadian flags are raised along major roadways and other highly visible locations in participating communities. These flags represent the 128,000 Canadians killed and missing in action. Approximately 116,000 Canadians in armed conflict from the Boer War to the present, as well as the approximately 12,000 soldiers missing in action. In addition, a total of 234 officers with the RCMP and its predecessor the Northwest Mounted Police, who have died in the line of duty. Each flag is accompanied by a sponsored "Hero plaque". It recognizes and honours individual Veterans past or currently serving, and is a tribute from family, friends and other caring people.
The flags and plaques are raised on the first Saturday in October each year and are taken down after Remembrance Day. This year, the closing ceremonies will be held on November 18th. A key factor to making our tribute unique is how all flags are raised from coast to coast at the same moment, unifying all Chapter locations, tributes and participating Canadians.
Source: vetvoicecan.org