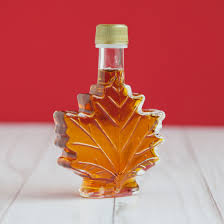 11 Ways to Use Maple Syrup
Maple syrup isn't just for drizzling onto a stack of pancakes. From sweet-savory popcorn to fluffy mousse, here are 11 awesome ways to enjoy maple syrup.
1. Popcorn
Upgrade popcorn with sweet maple syrup and smoky bacon.
2. Scones
Chia seeds add fantastic texture to these fast breakfast pastries.
3. Pie
Pastry chef Jacob Griffin uses maple syrup instead of molasses for this classic Pennsylvania Dutch pie.
4. Cocktails
For a fall take on an Old-Fashioned, add richly flavored dark amber syrup.
5. Roasted Vegetables
Barbara Lynch drizzles maple syrup over butternut and delicata squash before roasting.
Or try this incredible roasted brussels sprouts side dish
6. Fajitas
The classic Southern flavor combination of maple and bourbon works surprisingly well in chicken fajitas.
7. Soup
You can make this sweet and savory pumpkin soup with either maple sugar or maple syrup.
8. Snack Mix
Maple syrup gives this crunchy snack mix its sweetness while Thai curry paste adds terrific heat.
9. Bread Pudding
This sweet-savory breakfast bread pudding made with sausage and maple syrup is a fun twist on French toast
10. Granola
Top yogurt with this healthy maple-amaranth granola featuring pecans and coconut flakes.
11. Mousse
This amazing dessert is made with butternut squash, but fresh or canned pumpkin would also work well.